Music Saves UA
Music Saves UA is a non-profit fundraising initiative created by Ukrainian Association of Music Events to provide immediate humanitarian help to those who need it most right now in Ukraine, as well as to support the national musical product as a means of countering hostile propaganda through music.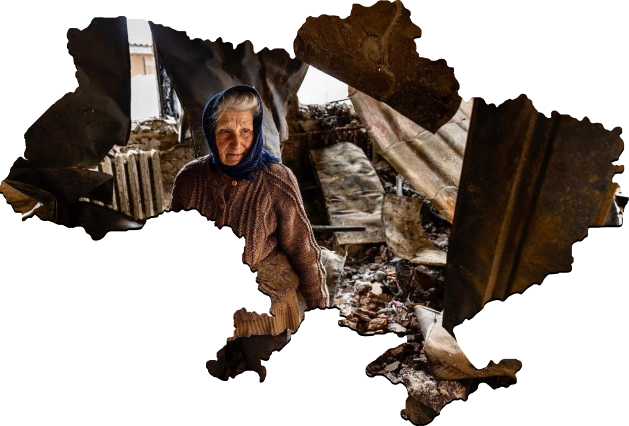 Support and development of the national music product

Evacuation

Settlement for the refugees

Food

Drinking water

Hygiene products

Music infrastructure
Heating Points
by UAME | Music Saves UA
OUR HEATING POINTS ARE PROVIDED WITH
KHERSON
(2 points)
In the recently liberated Kherson, with the support of our initiative Music Saves UA, two Heating Points were opened. Here, residents of the city can warm up, receive humanitarian aid and charge gadgets. There is still no stable electricity supply in Kherson, so such points are very necessary at the moment. We provide these points with generators and fuel for them, and with the Internet. In addition, in each of the points, you can get humanitarian kits. If necessary, we also evacuate people from the region to safer places. Our Heating Points are targeted at cultural and educational workers, but anyone who needs help can get it here.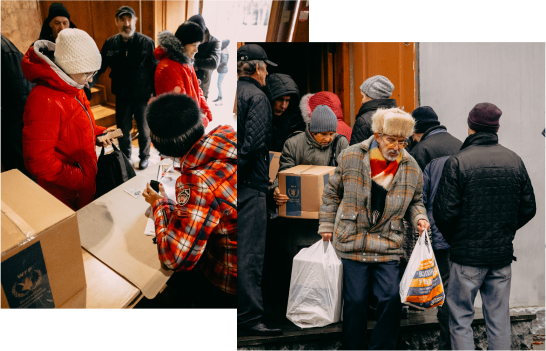 Humanitarian Headquarters
by UAME | MUSIC SAVES UA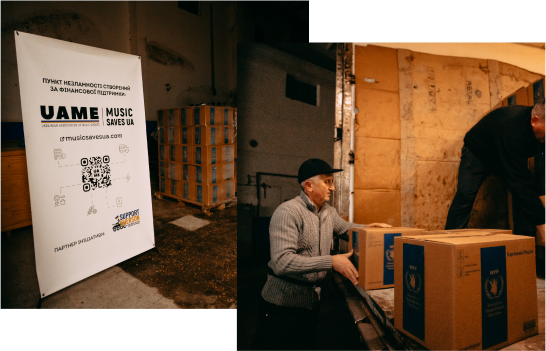 MYKOLAIV
Millions of people in Kherson and Mykolaiv regions are under shelling every day, they live without heat, water and electricity. The humanitarian situation in southern Ukraine is critical today. That is why we are opening a humanitarian headquarters in Mykolaiv, from which the aid can be delivered to other cities in the south. This way, we are able to provide the civilian population with humanitarian aid, which is necessary now.
Our story
Music Saves UA is an initiative organized by the team of "UAME" – Ukrainian Association of Music Events to help those in need during the war in Ukraine. UAME is the largest association of representatives of the music industry in our country. The initiative was founded on March 1, 2022. Our main goal is to help Ukrainian civilians.
That is why we constantly monitor the urgent needs and direct our focus to where we can be most useful now. Thus:
- In March we opened a humanitarian headquarters on the premises of Atlas nightclub.
- From March to August we delivered humanitarian aid throughout Ukraine, focusing on the east of the country.
- Since the beginning of the full-scale invasion we have been actively supporting the headquarters for refugees – Bakota Hub in Khmelnytsky region.
- In June we opened a humanitarian headquarters in Dnipro.
- In August we began to actively evacuate civilians from Kharkiv and Donetsk regions.
- In early December, we brought to Ukraine the most influential representatives of the music industry from different countries of Europe and Canada to show the current situation and attract future support.
- In December we opened two Heating Points in Kherson.
- Also in December, a humanitarian headquarters was opened in Mykolaiv.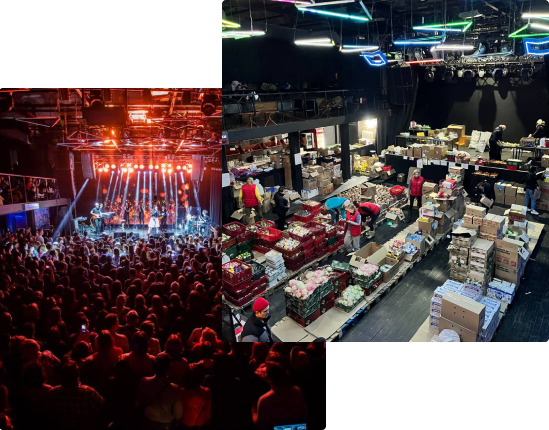 Hu­man­i­tar­i­an crisis
We call on the whole world to help us provide support for Ukrainian families and ensure their survival. Our valiant soldiers are doing their best to fight back and not let the enemy break through any deeper.
Our mission is to provide care and support for the most vulnerable – those who require urgent help, our mothers, children, elderly and those who cannot fend for themselves. Those who became victims of this cruel war against our people.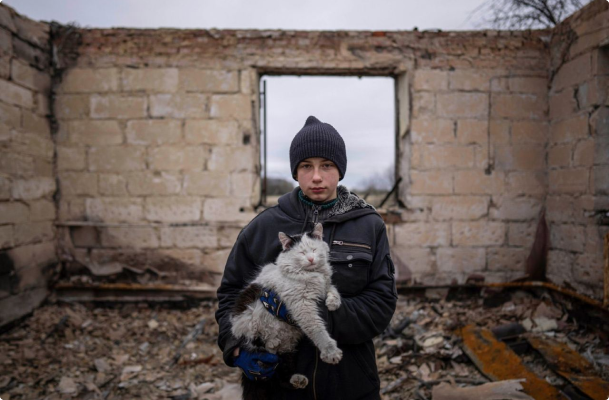 ?>
Awards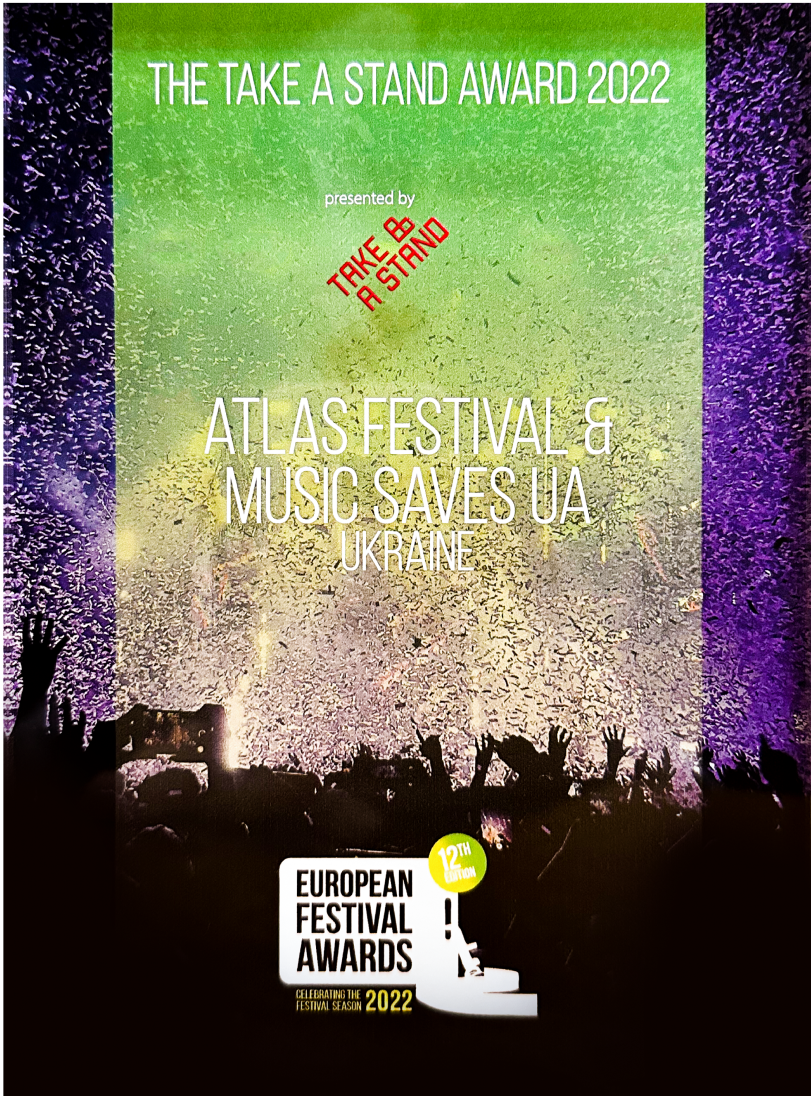 THE TAKE A STAND AWARD 2022
In January 2023, the charity initiative Music Saves UA, together with the members of our Association UAME, Atlas Festival, won «Take a stand» in European Festival Awards. Every year the award honours political and social activities and initiatives by European festivals. This category is recognising those speaking up for peaceful dialogue, humanity, tolerance and mutual understanding. We are honoured to receive such a recognition of our impact from the European festival industry.
Donate to help
IBAN Code (EUR): UA573052990000026000036218881
IBAN Code (USD): UA533052990000026005006205722
IBAN Code (GBP): UA583052990000026001026223852
IBAN Code (PLN): UA263052990000026001016224504
IBAN Code (UAH) (for payments from Ukraine): UA943052990000026008026209192
Name of the bank: JSC CB "PRIVATBANK", 1D HRUSHEVSKOHO STR., KYIV, 01001, UKRAINE
Bank SWIFT Code: PBANUA2X
Company address: 37-41 SICHOVYKH STRILTSIV STR., KYIV, 04053, UKRAINE
Recipient: All-Ukrainian Association of Music Events
Code EGRPOU (for payments from Ukraine): 43040078
Purpose of payment: For humanitarian needs in Ukraine
Donations are provided in money equivalent and will be used to support programs for Ukrainians affected by the war, as well as to support national music product, restoration and development of the music infrastructure. The procedure for sending donations is determined by the head of the organization in accordance with the priority needs of the affected persons according to the collected applications for the necessary assistance, as well as in accordance with the priority tasks of supporting the development of the national musical product and musical infrastructure. Reporting on the use of donations is carried out in accordance with the requirements of the legislation of Ukraine on accounting and financial reporting in Ukraine. Information and reports on the use of funds raised through the public collection of charitable donations will be published on this website. Every person who contributes to the Organization's accounts agrees that unused funds are non-refundable and can be reallocated to support war-affected residents of Ukraine, as well as to support the national musical product, including the restoration and development of musical infrastructure. Unused funds are non-refundable and may be redistributed to needs within administrative costs.